Data is one of the most valuable assets a company can own today.
Choosing an AI recruitment tool can be confusing, especially when you have no idea what features are important. It's hard to identify the benefits of a solution at first glance, even more so when you are considering the solution's compatibility with your recruitment process and organisation. To help you find the most suitable AI solution, we have compiled seven important questions to ask before choosing an AI recruitment tool.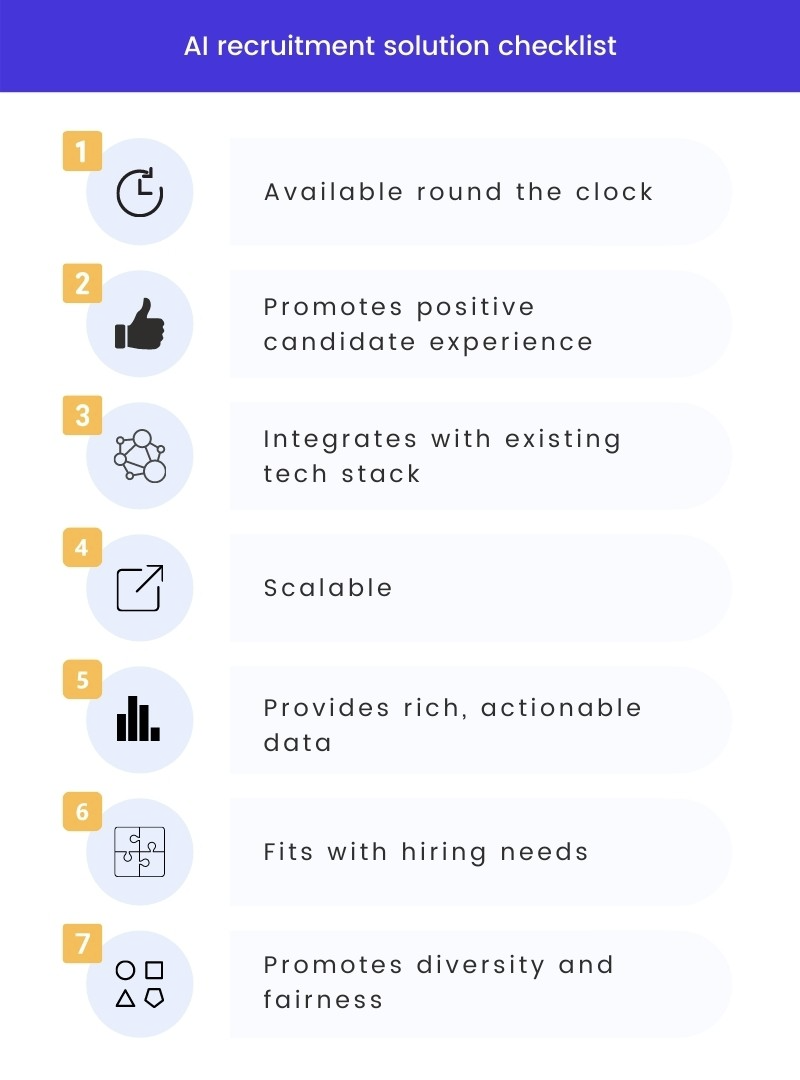 1. Is it available 24/7?
One of the main problems during the recruitment stage is finding a time when both recruiter and candidate are free. This is difficult considering both parties have different commitments. Therefore, the first thing you must do when looking for an AI recruitment solution is to see if it provides 24/7 availability.
The ability to ensure your recruitment process continues after work hours is extremely valuable. Imagine starting your morning with candidate information and interview results prepared and ready for shortlisting.
24/7 availability allows you to continue recruiting even when working remotely, thus further enhancing recruiting efficiency. With an average time to hire of up to 49 days and cost per hire around $5000, every second and dollar is valuable. Such efficacy is extremely beneficial to any company and therefore a crucial feature that must be available in your AI recruitment tool.
2. Does it enhance your candidate experience?
Of course, you can't just be thinking about your own business. A candidate's experience is just as, if not, more important than yours. Candidates are not only the primary users of AI recruitment solutions but are also potential employees and you want to give them the best experience and impression from start to finish. A study shows that 69% of candidates would share a negative experience with their friends and network. A positive experience is therefore important for your business reputation and attractiveness on the market.
With the large variety of different AI recruitment solutions out there, it's important to analyse how each one will benefit your screening process and affect your candidates. Ask yourself, does the recruiting solution provide everyone with a fair go? Is it easy to use? Does it consider disabilities? If not it may negatively impact candidate experience.
3. Is it easy to integrate?
An AI recruitment tool can only empower your recruitment process if it has been successfully integrated within your organisation. Therefore, the next question to ask is whether the hiring solution you chose can be easily integrated.
To determine whether a solution can be easily integrated into your processes, first consider what recruitment software your company currently uses. Assess whether it is possible to transfer data from one source to another efficiently. For example, Curious Thing can be easily integrated with Expr3ss!, PageUp, Smart Recruiters and iCIMS.
The benefits of having a solution that can be easily integrated with the rest of your technology stack are numerous. You won't need to drastically modify your data flow, saving you valuable time and money to focus on other important things such as the candidate experience. There will be significant productivity benefits as staff only need to be trained on the new AI solution as opposed to a completely new tech system. Easily integrated solutions can also make your implementation journey much easier and more successful.
4. Is it scalable?
Another important feature to consider is the scalability of your AI recruiting tool. The dynamic and unpredictable nature of the economy means that you have to be agile and adaptable. To ensure your business can adapt to the changes in demand, an essential feature you must consider is scalability.
Scalability refers to the ability of technology to grow and adapt with ease. This feature allows your company to easily scale up or down depending on variations in demand. For example, during the pandemic, the sudden increase in demand for groceries and toilet paper forced Coles to urgently hire large amounts of staff. With scalable technology such as Curious Thing, it is very easy to scale up the number of interviews conducted and just as easy to scale down.
5. Does it provide important data insights?
One of the most important questions you must consider for any AI recruitment solution is whether it will provide you with data-driven insights and ready-to-action data. This data can come in different metrics such as:
Time to hire
Quality of hire
Applicants per opening
Selection ratio
Cost per hire
Candidate experience
Candidate soft skills
The data can be used to simplify and empower your decision-making process. It allows you to understand how effective and efficient your operations are at specific points in your recruitment pipeline.
However, you must also ask yourself if you know what to do with this information. Do you know how to identify weak links or how to fix them? If you can't answer these questions, consider an AI recruiting solution that does data analysis as well to further simplify your decision making.
6. Does it help solve problems and not create more?
It can be easy to get carried away with the 'cool' technology a solution offers. However, you should analyse whether this solution will solve your problem rather than create more.
For example, if you are currently spending too much time manually screening resumes and decide to implement an AI recruitment tool that automates face-to-face interviews, you aren't solving your main problem. In this case you would be training staff, educating candidates and shifting business processes around a solution that still necessitates manually screening resumes. Therefore, it is important to understand the needs and requirements of your recruitment process to find the best AI recruiting solution for you.
7. Does it promote diversity and avoid bias?
A diverse workforce in the modern day workplace is essential for productivity and positive company culture. Research has shown that companies with a diverse workforce are 35% more likely to outperform those without diversity initiatives. With such obvious benefits, it's important to check your solution is bias free, meaning that all decisions will be made fairly and without discrimination to give you complete, unfiltered access to your candidate pool.
For example, Curious Thing is an AI phone interviewer that focuses on what people say and not how they say it. Therefore, allowing you to screen candidates purely based on their skills. Our team works hard to ensure our process avoids bias and gives every candidate a chance to shine.
If you'd like answers to the above questions with regard to our AI voice interviewing solution, get in touch with us at [email protected].