Recruiters prioritise candidate experience for good reason. Candidates are known to turn down offers due to bad experiences and 72% of them share these experiences on review sites. All this spells a branding disaster and less talent coming through the door.
Interestingly, most negative candidate experiences can be attributed to bad manners.
Candidates don't like it when they apply for jobs and don't hear back from employers. It is anxiety-inducing to be kept in the dark and unaware of next steps. And it's plain discouraging to jump through screening hoops only to then be ghosted.
About 42% of human resource professionals consider improving employee experience to be a top priority.
This all starts with improving the candidate experience which can be simple to do with the right tools.
To improve candidate experience, employers need to humanise their recruiting process by showing more consideration to their candidates. Interestingly, we can treat candidates better (i.e. display good manners) by automating parts of the recruiting process with technology.
It sounds counterintuitive but we'll explain why it makes perfect sense. As mentioned, candidate needs are pretty basic, especially during the early stages of recruiting.
Candidates just want to understand next steps and be informed of the outcome of their applications.
In a best case scenario, candidates will also get something from the recruiting process even if they don't get the job. This could come in the form of new connections, great feedback or a better understanding of the industry.
Recruiters usually fall down in these areas because they don't have the time. Hundreds of candidates can apply for the same job which stretches resources. Adding a 'human touch' in these scenarios can be difficult.
This is where technology comes in. The right technology can automate tasks and give candidates the information they crave without adding to a recruiter's workload.
With less time spent on repetitive tasks, recruiters can pay more attention to strategy and designing a great experience for candidates who progress through the funnel.
Intrigued? Below we expand on four ways technology can add a human touch to the candidate experience.
1. Technology can scale
One of the biggest candidate complaints is that they apply for jobs and never hear back from employers. Or worse, they jump through a few screening hoops only to be ghosted.
It can be hard to keep track of candidates during the best of times but due to COVID-19 there are even more candidates on the market. This is inundating recruiters who may also be dealing with shrinking resources.
Technology like applicant tracking systems can help you scale hiring without compromising candidate experience.
With tech solutions like this, you can easily keep track of candidate information and contact candidates about their application status with the click of a button.
When it comes to screening candidates, the right technology platforms will allow you to interact with thousands of candidates at once. This humanises the experience because you are able to keep every candidate engaged and informed of your recruiting process. You can automate good manners and thus, provide a better experience for everyone.
2. Conversational AI is built to listen
Have you ever conducted a job interview and found it really hard to concentrate? You might have an impending deadline on your mind or it's the fifth interview you've had that day and you're fatigued.
Almost all hiring managers have been in this scenario at least once. It's especially easy to conduct suboptimal interviews at the beginning of the recruiting process when candidates are streaming through the door.
Recruiting tools that use conversational artificial intelligence (AI) are built to listen.
Screening candidates with chatbots, phone interviews or video interviews that use conversational AI allows you to provide an equitable opportunity to every candidate by maintaining consistency.
Every candidate gets a standardised interview experience and feels heard because conversational AI is built to listen and follow up on key points brought up during the interaction.
For example, here's what some candidates had to say about conducting AI voice interviews with Curious Thing.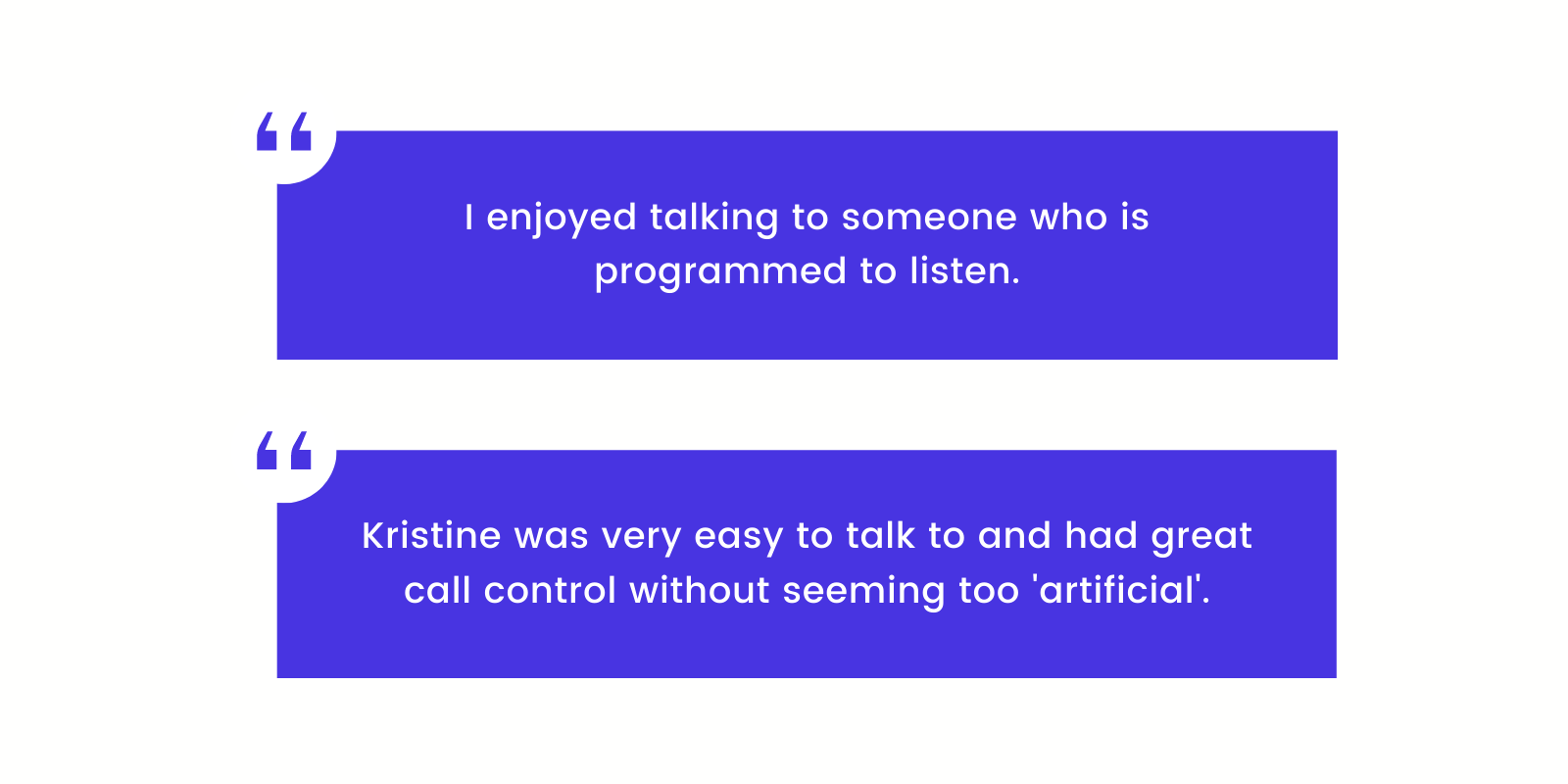 3. You can increase speed-to-hire
By automating manual tasks and early-stage candidate screening you can increase your hiring speed.
A quick hiring process is preferential for candidates as a timely outcome can reduce anxiety and help them make better decisions. Candidates can have multiple job offers, be waiting to hear back from you before pursuing other opportunities or be feeling job-seeking stress.
All three of these scenarios see candidates prefer shorter recruiting processes with clearly communicated timelines. By automating communication, you can ensure you are empathetic toward these candidate needs and are interacting with them in a timely manner.
Personal emails are a nice touch and essential as things progress but, at the beginning of the recruiting cycle all candidates really want is to be kept in the loop.
4. Candidate insights enable smarter shortlisting and better feedback
A great candidate experience will provide positive takeaways regardless of the outcome.
Providing personalised feedback or insight is one way to do this. The right screening technology will capture information and provide insight into candidate soft skills. This helps recruiters make shortlisting decisions based on more than a resume.
It can also create a useful resource you can share with candidates. Providing behavioural insights to candidates can help them see where their strengths and weaknesses are.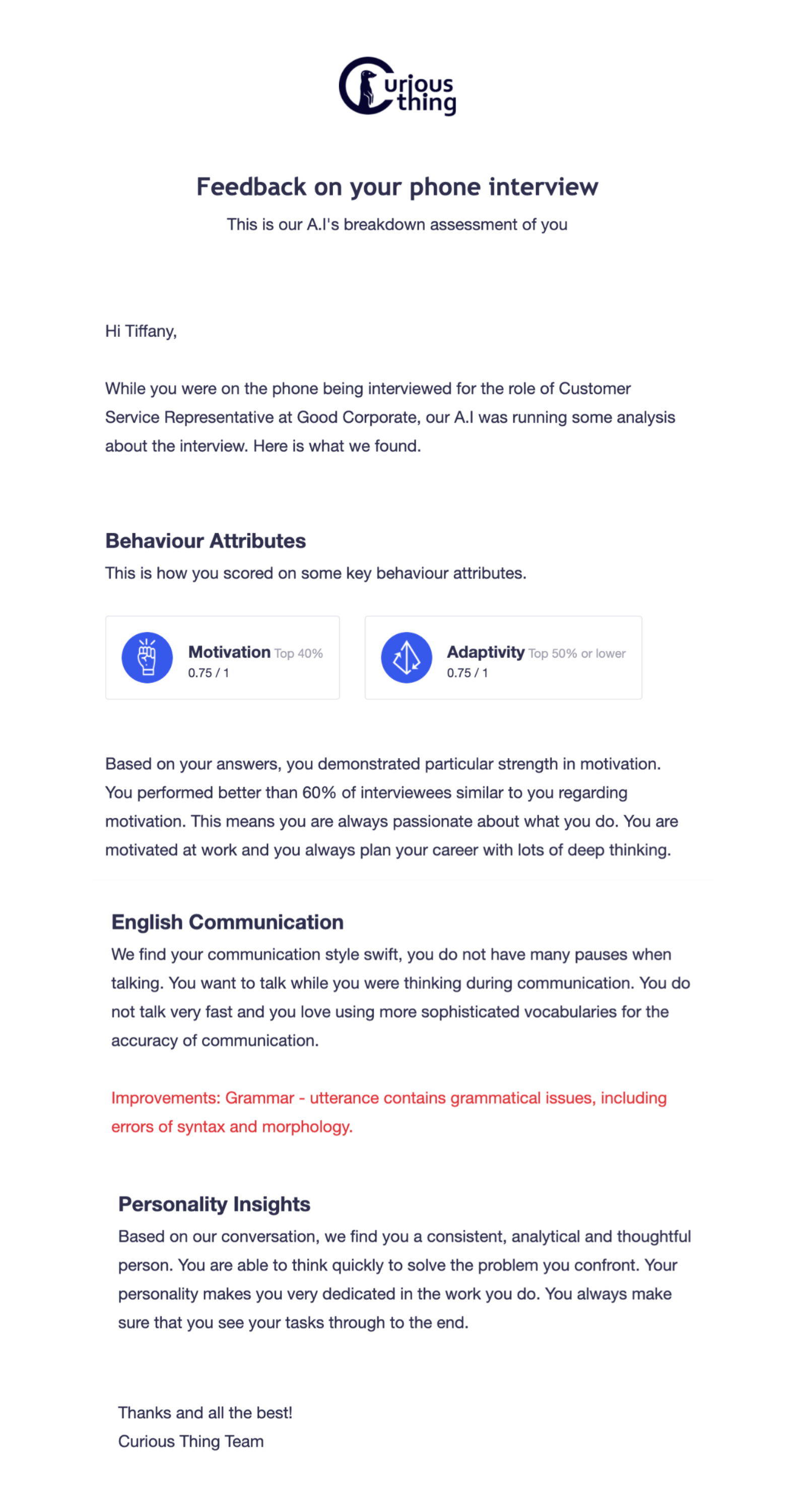 For candidates who progress to next round interviews, the insights generated through screening can help you tailor your interview. Candidates in final stages want to feel seen for who they are, not as an option on a spreadsheet. Using insights to ask focused questions can help you do this without added work hours.
Automating the human element
There's a full suite of technology products available for every stage of the recruiting cycle. Choosing the right tools depends on your needs, goals and company values.
When making a choice, remember the right technology will not take the human touch out of the recruiting process but rather, add it in!
Automating early parts of the recruiting process can be especially beneficial as candidate needs are simple at this stage. They want to know if they are progressing to the next round and what timelines to expect. Technology can help recruiters scale and exhibit 'good manners' during this stage of recruiting. It can also help employers provide candidates with insights into their skills and guarantee a standardised screening process.
All these elements take candidate needs into consideration and help to provide a better candidate experience.