Recruiting is hard to predict. One day you could be struggling to find staff and the next, you're struggling to cope with too many applicants.
So what can you do when you're suddenly in dire need of staff or when you're swamped with a large volume of applicants?
In this blog, we talk about how AI voice technology can help you find the right candidates for the job and screen them quickly. We also discuss how AI technology can provide you with a deeper insight into your applicant pool and how this can maximise efficiency.
Overview:
Searching for the right candidate
The importance of recruiting the right candidates is crucial for any business's success. It's difficult to assess a candidate based on only a resume and doing so heightens the risk of a bad fit. Screening and interviewing candidates is a costly process that can cost anywhere between 15-25% of an employees annual salary. It's therefore important to try and hire the right candidate and this involves looking at more than a CV.
Soft skills are an increasingly important part of the hiring decision. Around 93% of employers say that soft skills are a 'very important' if not 'essential' factor in their hiring decisions. Anyone can repeat textbook theory and often, it's the way they communicate it that matters. Every business has a different culture and some require specific skills for teams to operate smoothly.
All this means is that sometimes the most qualified candidate isn't the best candidate for the job. And assessing soft skills requires more than looking at a resume. Recruiters know this and often the biggest issue they face is time. Recruiters faced with a large number of candidates will especially struggle in this area.
This is where tech like Curious Thing comes in, with the right tools, recruiters can screen thousands of candidates over one weekend. And that's assessing soft skills and all!
How AI voice interviews work
Curious Thing can help you achieve your hiring needs by automating tasks and analysing data. Here's a rundown of how it works.
Identify, invite and inspect
Identify Curious Thing identifies all the candidates that have applied for your position.
Invite All appropriate candidates are invited to complete an automated phone interview customised by you and powered by Voice AI.
Inspect Results are compared against other candidates and you can make informed decisions based on comprehensive data.
You might be asking yourself, "can a robot really do a job interview?". The answer is yes and a lot faster than we can.
Automating the process
The entire phone interview process from scheduling to completion is automated by Curious Thing. This means you don't have to call each candidate individually to conduct a phone screen which saves hours of time. The software also takes it a step further by simplifying the invitation process, letting you easily import excel sheets filled with the applicant's information such as phone numbers and email addresses.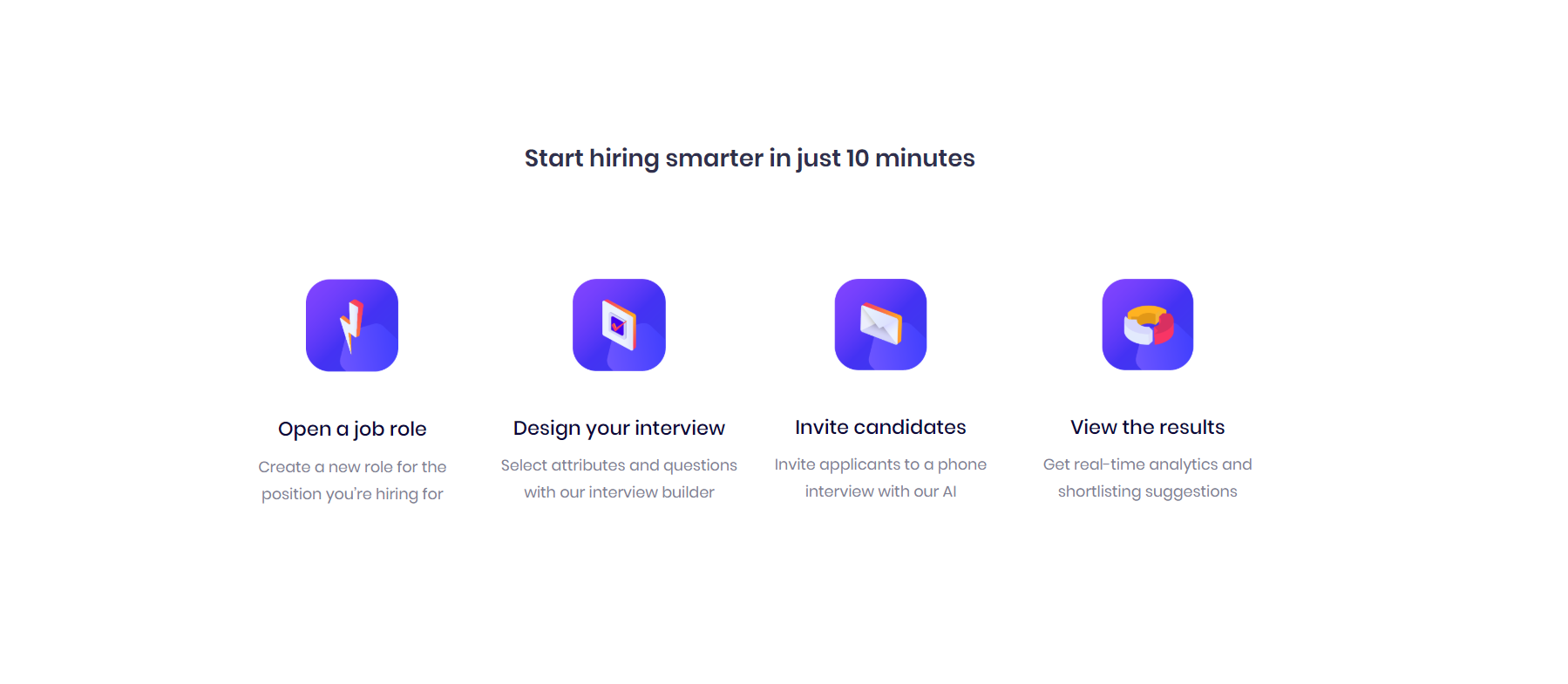 Flexible interview customisation
Curious Thing understands that each business has different needs and therefore has made flexibility and customisation an integral part of its system. You can easily design a custom phone interview to assess specific soft skills such as adaptability with custom or preset questions formulated with the guidance of a professional organisational psychologist.
Comprehensive scoring system
During the interview, candidate responses are analysed and graded based on a comprehensive scoring system. You will be given access to benchmarkable data on a cohort and individual level to better analyse how each candidate fairs against the rest. The scoring system can analyse soft skills such as communication and English (IELTS Scoring). You are also given the choice to listen to the whole interview, or specific sections so that you can get a deeper insight into a candidate's ability.
Benefits to your business
The trade-off between quality and quantity is a highly debated topic. However, with Curious Thing, you will be able to hire quality candidates in large quantities, getting the best of both worlds. You will also save time and money and remove bias from the interview process!
Time
If you're a recruiter who has tried to call up a candidate for a phone interview, you would understand the struggles of finding a time where the candidate is free and prepared to perform at their best. The limitations of working hours and personal life make scheduling a real struggle.
Curious Thing is available 24/7 so that candidates can attempt their interview in their own time. This allows candidates to perform at their best and widens your applicant pool since scheduling conflicts can sometimes cause candidates to opt-out of the process.
After implementing Curious Thing, Stellar found that approximately 31% of their candidates conducted phone screens out of working hours. Stellar also reduced screening costs by 65%!
Bias
Inherent within every single human and moulded by our surroundings and past, bias remains the most controversial component of talent acquisition. That's why the best way to remove it is to replace human interaction at the early stages of the recruitment process. Tools like Curious Thing will only focus on the primary task of analysing candidate answers and are uninfluenced by external factors such as age, gender, background or accent. This allows your company to screen your candidate pool bias-free and perhaps allow more diverse groups to progress through the interview process.
Go beyond the resume
Curious Thing allows recruiters to quickly analyse candidate skills without just using a resume. This is great for recruiters but it is also great for candidates! Applicants are given a chance to demonstrate their ability beyond the resume and display the skills at their disposal.
Why is this important?
Well, 50% of candidates read workplace reviews before even applying for a role. A bad reputation may lose you quality candidates right at the very start. The benefits of a positive candidate experience are vast and extremely valuable to companies, especially in a highly competitive labour market. A good candidate experience means that applicants will find it easier to integrate within the team and therefore become productive faster. Candidates will also be more inclined to reapply if unsuccessful and may (if not already) endorse your company's products and tell friends and family about their experiences.
Interested? Take a look at this article on how to create the best candidate experience.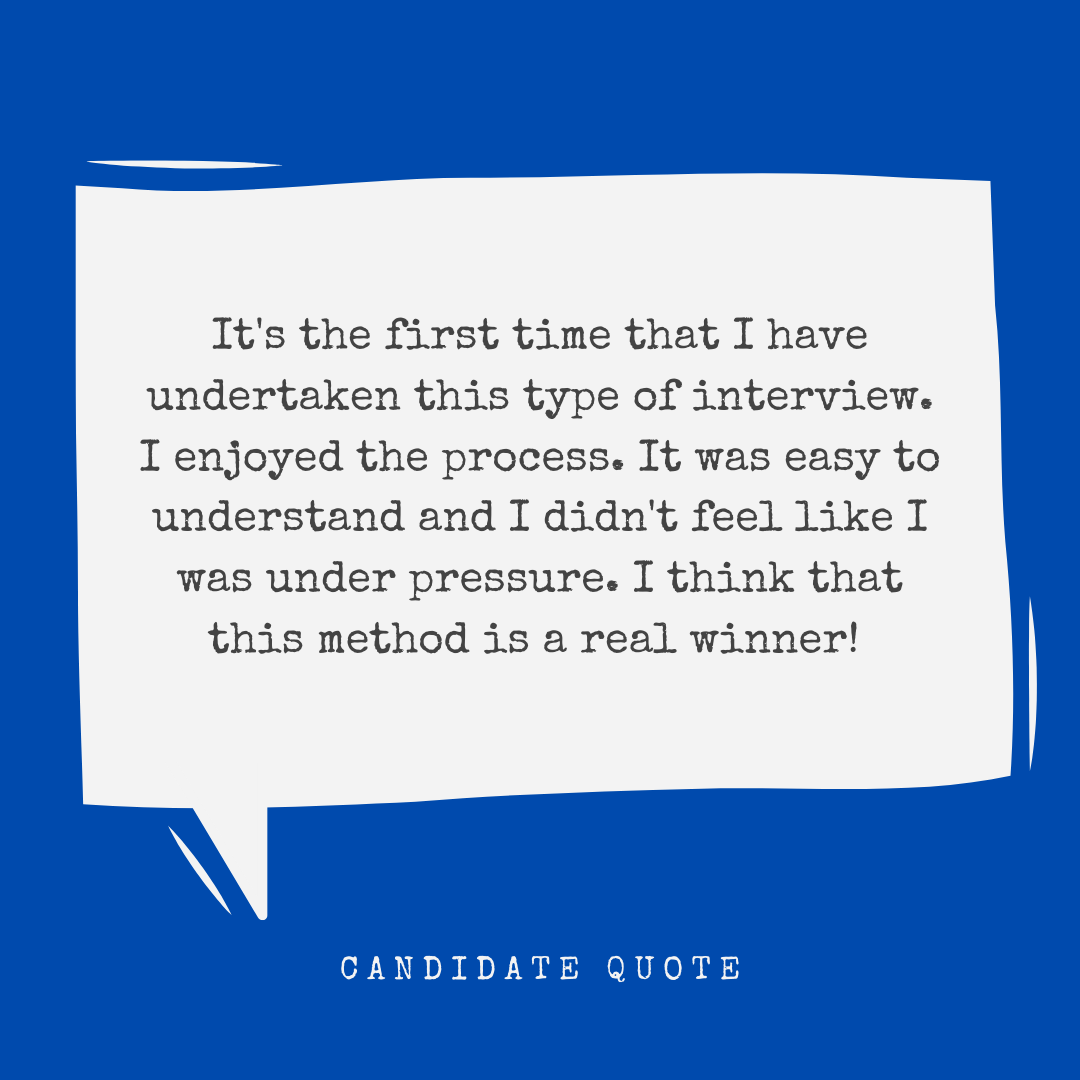 Your turn
AI technology like Curious Thing can help you handle the complexities that come with recruiting talent. For businesses to thrive, recruiters must ensure ready access to top talent. Tools like Curious Thing can help do this, at scale! If you're interested in learning more about how you can remodel your HR process, read this article about changing your HR tech recruitment stack next!