Some company stories start with a need. Founders famously needed something that didn't exist Sara Blakely, founder of Spanx, needed something to wear under white pants so she cut the legs off her pantyhose. Richard Branson's flight was delayed and rather than wait, he chartered a plane and sold tickets to other stranded travellers at cost price.
Curious Thing started with a question. Well, a series of questions.
Our founders, Sam, Han and David were contemplating artificial intelligence (AI) and wondered, "What if AI could engage us in conversation?"
What if, instead of giving commands to AI, like we do with Siri and Alexa, AI instead asked us the questions. What if then, the AI analysed answers and produced data about a person's behaviour traits or personality type? Wouldn't that be cool? Wouldn't that be useful?
After interviewing hundreds of people as co-founder of his first startup, our CEO Sam Zheng, knew that in a recruiting context, this would be useful indeed. "While growing the company I spent at least two days a week recruiting new team members and so I knew technology like this would be useful to people recruiting," says Sam.
Fellow co-founder David McKeague has long been interested in how the future of work will arrive. "There is a huge amount of human bias present in the existing recruiting process. The best person for the job might not have gone to a certain university or followed a traditional career path. Selecting for attributes such as lifelong learning and customer focus is becoming crucial. I saw technology like this as a way to help all candidates have an opportunity," says David.
With a PhD in Machine Learning and Natural Language Processing, Dr Han Xu was most excited by the potential such technology had. "Our consumer experience with AI has been one-directional. We ask AI questions and it delivers. I was excited by the prospect of AI that could not only ask questions but actually engage in conversation by taking note of what a person was saying and probe with follow-up questions," says Han.
And so, Curious Thing was born. The purpose was to create an AI questioning engine that could ask people questions and then provide data about said person's behaviour traits. The 11 behaviour traits the AI looks out for are those most relevant to success in the workplace.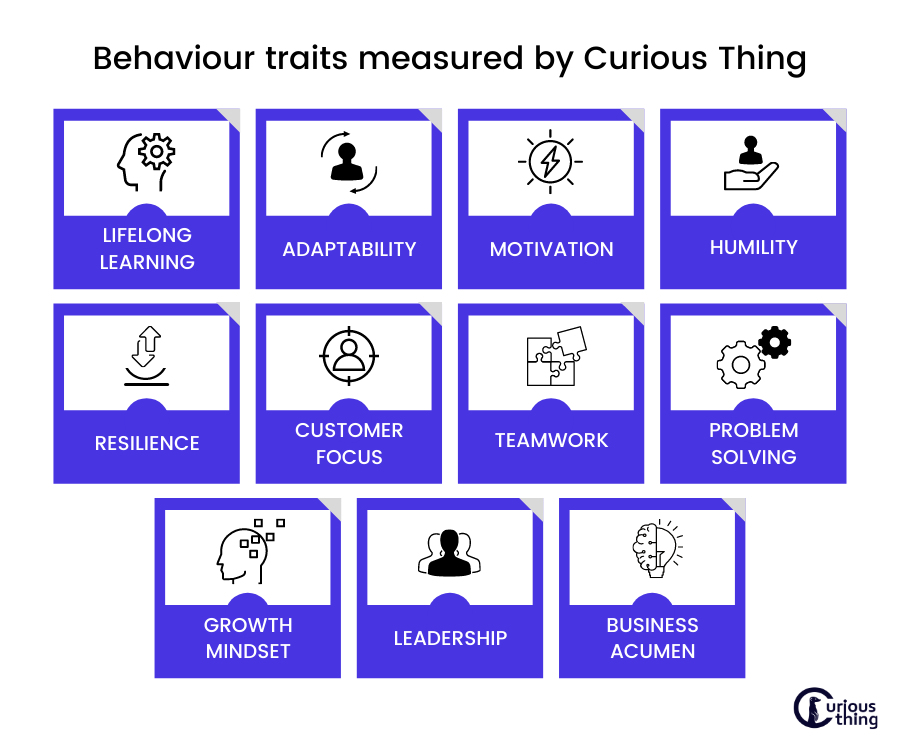 The name, Curious Thing, was chosen in honour of the deep curiosity felt by our founders about the potential of AI. It was also chosen to reflect what underpins questions, curiosity. Considering our AI asks questions and engages in conversation, it is a curious thing indeed!
Where we are today
It's been over two years since Curious Thing was founded. We now have a team of 19 people and counting and a list of amazing customers. We're happy to report our curiosity remains endless. We're always asking how we can improve our product, how we can work better as a team and what else our AI can be used for. As a result, we've created two new use cases for our AI questioning engine in 2020. We created a call centre automation solution where our AI can be a first point of contact in call centres. We also worked with clients to generate an outbound call solution that gets our AI to conduct mass phone calls on behalf of busy humans.
We're looking forward to continuing using our curiosity to fuel innovation and help humans save time and make smarter decisions.