Here at Curious Thing, we walk our talk. By that we mean, we eat our own dog food. And by that we mean, we use our own product when recruiting!
When hiring, we strive to do what we encourage our customers to do, give every candidate a fair chance and remove as much human bias from the process as possible.
In this blog, we give you a behind-the-scenes look at the recruiting process we used to hire our new Marketing Associate.
What made this particular process interesting was that we had over 400 people apply for the role and did not put a face to candidate names until the last two stages of our recruiting process. Also, while we were prepared to wait until we found 'the one', our entire process only took two and a half weeks!
Interested in learning more about how we got through each step so fast? Keep reading.
How we screened candidates
A resume does not tell a candidate's whole story and can be a source of bias. From the first round of applications every candidate who met our basic eligibility requirements was invited to an AI voice interview with Curious Thing. Candidates were given four days to complete their interview, which they could conduct from anywhere at any time during this period.
As candidates completed interviews, results were immediately populated in our analytics dashboard. We set up our interview to assess candidates on their teamwork skills, adaptivity and lifelong learning. Our dashboard showed each candidate's score for these attributes and allowed us to compare their performance against others.
We used this data to order candidates by performance and create a shortlist of 20 people. We also referred to individual candidate reports and interview highlights to help us deep-dive further and make informed decisions about the highest scoring candidates.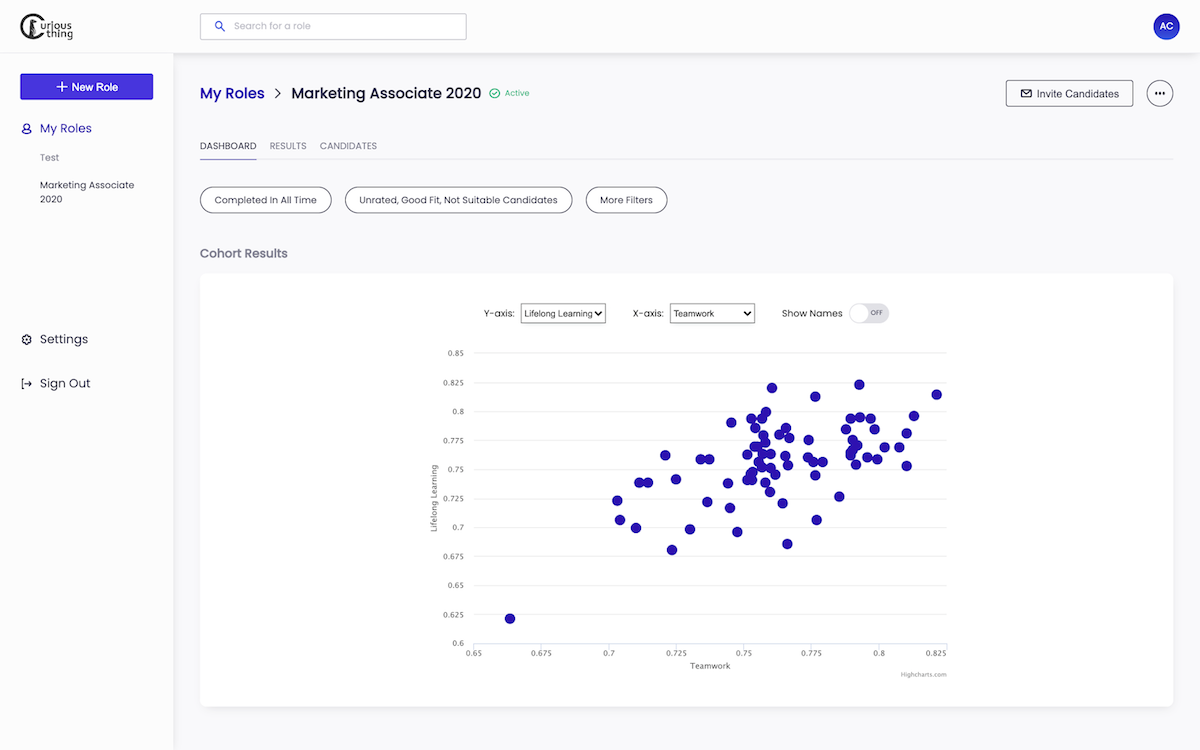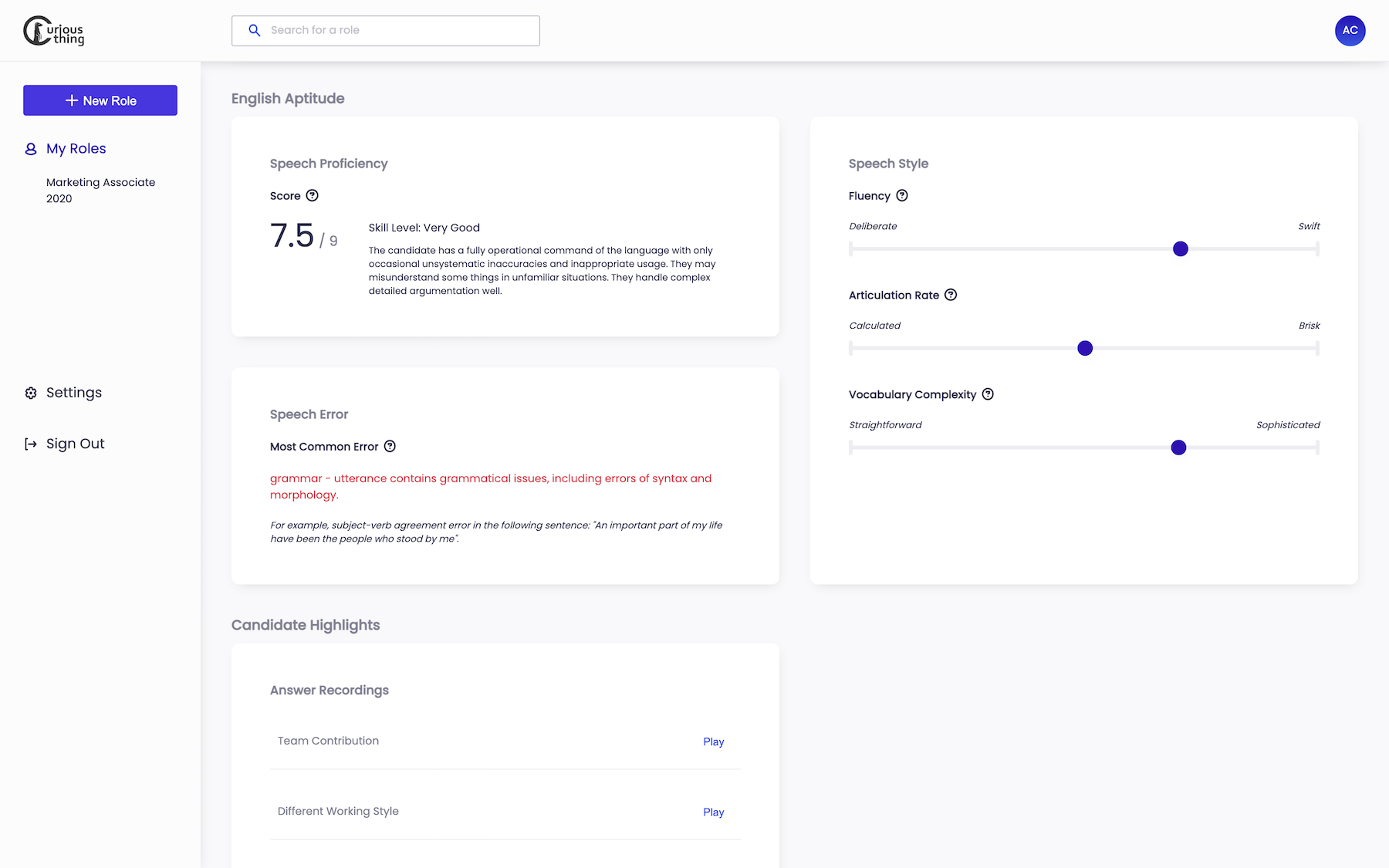 How we narrowed our shortlist from 20 to 6
Our 20 candidates were invited to complete a written marketing task.
Once the task was complete, our Marketing Manager marked each task blind to minimise bias.
The candidates behind the top six tasks were invited to a Zoom interview with our Marketing Manager and VP of Business Development.
During the interview process two candidates shone brightest. Both were invited to culture round interviews with two different team members.
After this, our hiring team traded notes and an offer was made. Happily, our candidate accepted the job!
As mentioned, the whole process took about two and a half weeks!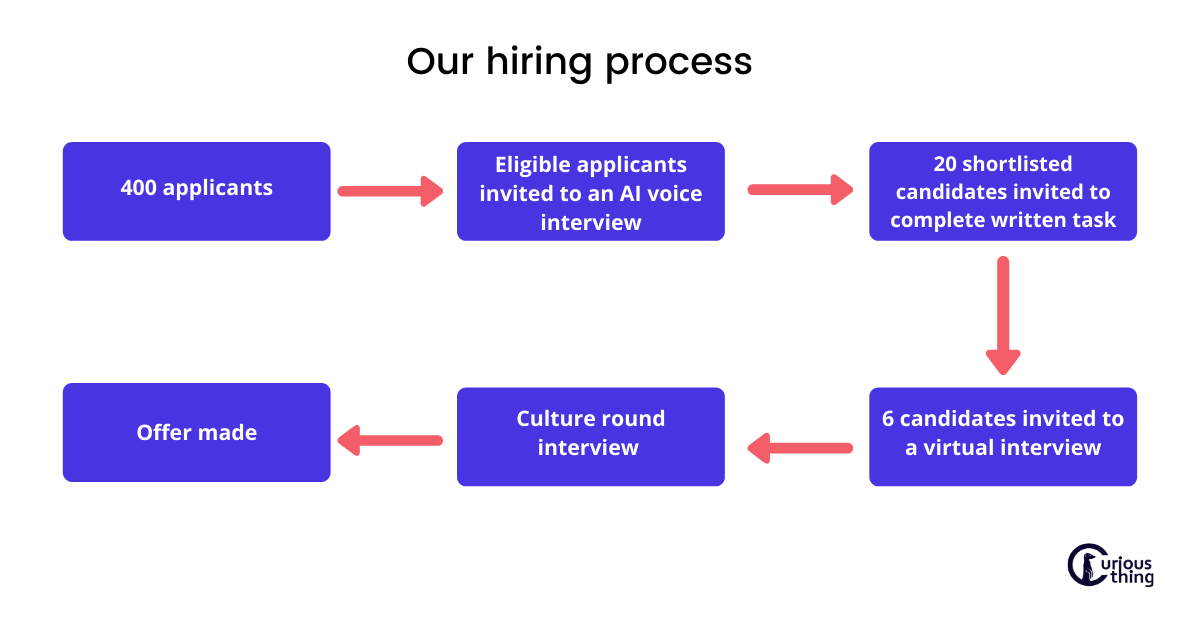 What we observed
It's clear COVID-19 has impacted the job market. A large number of applicants for us would normally be around the 100 mark but this job received much more than that. There is no way our hiring team could have given just 20 candidates a fair and consistent phone interview, let alone 400! We're pretty sure a lot of businesses are in the same boat or soon will be, making automation more important than ever.
Another thing we noticed is that because there are less jobs on the market right now, candidates are feeling more stressed. We closed the loop with candidates at every step of the journey and received really positive feedback for showing this attention to detail. One candidate told us they had applied for over 20 jobs, sometimes jumping through hoops like completing psychometric tests, only to never hear back from an employer. Another sincerely thanked us for even giving them a chance to show off their skills in our marketing test. "I have felt like recruiters have tossed away my CV without giving me a chance to show them what I can do."
It's one thing to understand conceptually that candidates are in a tough spot right now but it's another thing to see this play out in real life. We can't hire every candidate but we can give every candidate a great journey by doing basic things like closing the loop and providing feedback when asked.
A third observation we made was with regard to bias. Our early stage screening required minimal interaction with candidates in the 'traditional way'. This meant our hiring team did not put a face, or even a voice, to most candidate names until final round interviews. Each candidate had a very different personality. Some candidates were on the shy side and could have been easily ignored if our team was not already aware of their strengths. Plus, all candidates were strong but had very different backgrounds. Some had just graduated from university and had internships under their belt while others had spent a year or two in the industry. All studied at different universities in Australia and around the world and not all of them were native English speakers.
We are unsure if our shortlist would have been as diverse if we didn't employ methods to minimise bias.
Overall, we were very happy with our process and will continue to make tweaks so that our recruitment funnel is even smoother the next time round!
Our candidate
Our newest hire, Gayathri Kannan is now three weeks into the job. Prior to interviewing with Curious Thing, Gayathri never interacted with an AI and wasn't sure what to expect. "I'd never held a conversation with an AI before. To my surprise, it was really easy and felt like any other interview!" said Gayathri.
What also impressed Gayathri was our candidate experience. "What really stood out for me was the quick timeline and regular updates I received from the team. I felt more confident knowing what to expect at every stage of the process and it was only a short time between applying for the job and receiving an offer" said Gayathri.
We're really excited to have Gayathri on board and look forward to kicking goals in 2021!